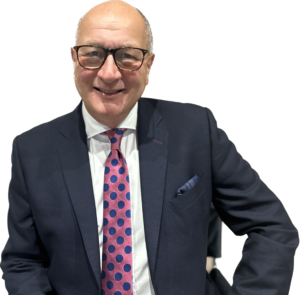 About Me
Three grown up children, Horseracing (spectator and relatively unsuccessful owner), Golf, Fishing and Cycling. Day Skipper (passion for sailing holidays) – lover of long countryside walks (with my partner and Ruby our Springer Spaniel). A late convert to Derbyshire rural lifestyle (after a lifetime in London & Cambridgeshire).
Senior Finance Experience
CFO of FinTech – Investment & Savings Platform – PE backed early-stage business – cost cutting – business reorganisation (IT) and a series of fundraisings.

COO & Business Manager US owned European Investment Bank

Co-Founder of Boutique Corporate Advisory Firm – specialist in Biotech, MedTech and Renewables

Sale of Corporate Advisory Firm to Global Investment Bank

European CFO of Financial Institution managing teams in 4 locations (including 3 overseas)

Finance Director of UK Stockbroker – responsible for integration on UK / Overseas business post-acquisition.
How I help Clients
Develop financial strategy, prepare business plans and forecasts

Take responsibility for financial management (cost control, commercial contracts)

Implement better MI and accounting systems

Integration projects, business reorganisation, including post-acquisition

Implementing an annual budget process and regular reforecasts

Develop pitch documents (narrative and financial analysis) for fundraisings

Working capital management and cashflow planning

Develop KPI's appropriate to the size and scale of activities and implement appropriate Financial Controls

Manage tax led projects, successful R&D tax claims, VAT, Transfer Pricing

Recruit, mentor and develop staff, building high performance and productive finance teams with an emphasis on creating a collaborative team culture
Clients Say
"I would recommend Phil highly for his strategic thinking and ability to build and manage teams. He was key in establishing a first-class finance, operations and regulatory function enabling the company to operate in a highly regulated environment."
"Phil was a calm and considered presence and I appreciated his contribution around the board table. Throughout his time with the company, managing team members as well as the numbers, he added considerable value."
"Phil is both inquisitive and keen to help, he mentored staff and helped them achieve their full potential."