"Tectona part time FDs succeed where others ... don't."
To find out more, read our case study here!
Want an excellent Part Time Finance Director at a fraction of the cost of hiring one? Welcome to Tectona.
Why I ought to consider taking on a CFO?
If you really want to focus on the things that matter in your business –
STOP doing things that don't make sense and outsource them.
We have written an article which highlights the benefits of outsourcing your finance stuff and tells you in plain English what a CFO actually does.
Tectona Ten
We use our Tectona Ten methodology to review the 10 key areas of any finance function and let you know how you measure up.
These are the 10 mission critical areas we see: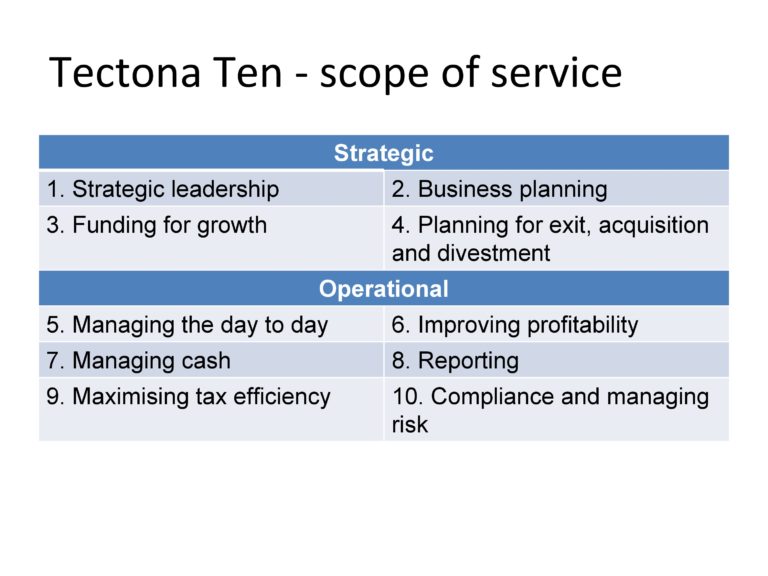 HOW OUR PART TIME FINANCE DIRECTORS HELP YOU
look at your financial strengths and weaknesses so we can focus effort on areas of greatest risk and return
improve cash flow
improve profitability by identifying ways to optimise income and reduce costs
improve financial control through better management information
find business funding, including asset finance, equity finance and debt funding
improve your relationship with your bank
improve your relationship and work out problems with HMRC tax
calculate the value of your business
when the time comes, work out the best way to sell your business
SUBSCRIBE TO OUR NEWSLETTER