Yesterday, 15th December, we had an hour with co-author Jake: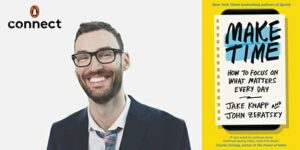 Jake spent 10 years at Google and Google Ventures where he created the design sprint – a software development approach adopted globally. Each sprint over 5 days has a focal point – called a Highlight – which creates clarity and motivation.
This Highlight is the key message of the book as it encourages each of us to have a daily Highlight to focus on. The rest of the book is 87 tactics to help you achieve the sort of life you want to lead – both professionally and outside work.
Quite a few focus on technology – specifically your phone – and how to get it to behave better. Jake commented that he thought that phones now are more respectful over grabbing your attention than they were.
So, in 3, my takeaways from actually hearing from the author are these:
Forward wish your day

– what is the feeling you want to have at the end of the day and once you have achieved your highlight

It's your life

– and it is only you that can truly take back control from all the other distractions. In particular, use technology to help you and not hinder you. You might like to consider that all those tech companies with apps and distractions (yes, you Google, and you Instagram) design them to encourage us – so we are trading our time – to do stuff which helps them make money

Get comfortable with saying NO!

– Don't be a walk over but you don't have to be rude. Be nice but be honest by framing the "no" by using because. For example – "sorry I will not be able to take part because I am involved in a big project and I have not got the capacity to give you and the team the attention you deserve".
Jake has produced a simple app to help you focus on your highlight. You can get the appropriate link here:
Tectona are one of the key hosts in a series of these events.
The next 3 events:
If you would like to see the full schedule please click here