This article by Jan Bowen-Nielsen from Quiver Management follows on from his previous article about how to develop a successful growth strategy. Once your business is on a growth trajectory, new challenges emerge – yet they can be overcome. Read on to find out more.
Growing pains
Any business leader who has experienced the rapid growth of their company will undoubtedly have stories to tell about the trials and tribulations they've experienced along the way. Their business operations and executive decisions will have had to change, as well as their management of finance, product development and competitive strategy. The company structure will have grown and evolved and logistical challenges overcome.
The 6 stages of business growth
From start-up through to a large corporate entity, the business landscape is an ever-moving feast but there is a typical pattern to the growth stages and challenges facing fast-growing businesses.
Take a look at this infographic showing "The 6 Stages of Growth" based on research of more than 750 fast-growing businesses. Identify where your organisation sits right now, where it is heading, and how coaching can be applied to contribute to the successful growth of your business.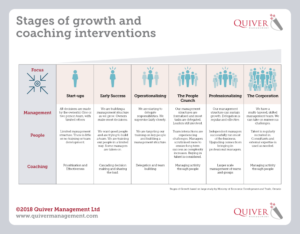 Leading through growing pains
Leading a fast-growing business can be very challenging as old strategies, approaches, systems and people are overwhelmed by the increased volume and complexity. As business coaches, we regularly help business owners recognise and navigate through these challenges, so they can successfully transition to the next stage of maturity.
Every fast-growing business is different, and the focus of our coaching support is always specifically aligned with the business and leadership challenges being faced at that time. But again, our experience shows that there is a pattern to the areas we typically focus on in our coaching sessions.
Coaching for business growth
Business owners in high growth businesses often receive little or no training in the art of leading people – they simply grow with the business. Those that align themselves with a business coach who will support, challenge, listen and pose relevant questions along the way, will have the opportunity to understand the dynamics at play and how to adapt and work with them.
It certainly needn't be lonely at the top.
Working with a business coach who has experienced the challenges you face every day and who is on your side provides an all-important sounding board and valuable support.
This is an abridged version of a fuller article on coaching through business growth which is published on the Quiver Management website here.
You might want remind yourself what Jan said in his previous article for Tectona, where he talked about the importance of taking a proactive approach to business growth and the role that business coaching has in pursuing this strategy. You can read this article here.