Yesterday, 6th October, was a real treat – we got to meet this guy – author of this FT Book of the Month: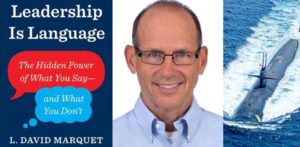 As a submarine captain, Marquet used his counterintuitive model of leadership to turn the worst-performing submarine crew into the best-performing one in the fleet, a story he recounted in his bestselling book Turn the Ship Around! and brilliantly captured in this hugely popular Inno-Versity video.
It soon became clear that your words matter more than you think.
Most of us use the language we inherited from a time when workers worked with their hands and managers worked with their heads. Today, your people do much more than simply follow orders. They contribute to performance and solve problems, and it's time we updated our language to reflect that.
In Leadership Is Language, former US Navy captain L. David Marquet offers a radical playbook to empower your people and put your team on a path to continuous improvement. The framework will help you achieve the right balance between deliberation and action, and take bold risks without endangering your mission. Among other things, we learnt:
How to avoid the seven common sins of questioning, from binary questions (should we do A or B?) to self-affirming questions (B is the better option, right)

Why you should vote first, then discuss, when deciding on a plan with your team, rather than voting after discussion

Why it's better to give your people information instead of instructions
In Leadership Is Language, he draws on a wide range of examples, from the 2017 Oscars Best Picture mishap to the tragic sinking of the SS El Faro, to show you exactly how the words you use (and don't use) impact how your people contribute.
'Full of compelling advice on how to lead more effectively by choosing your words more wisely'
ADAM GRANT, author of Originals and Give and Take
And we are one of the hosts in a series of these events.
If you would like to see the schedule please click here