Every month we meet a top drawer author and put them through their paces. This month it was the turn of Naomi Bagdonas and below are my takeaways from our one hour session with her.
Naomi presented brilliantly and with expert moderation from Blaire Palmer we got a whole load of anecdotes.
But here's the thing, the real value add is the 40-minute session which followed Naomi and Blaire with a group of 8 of us. This is where the real insights get shared which can be directly related to your and my lives.
These are my takeaways; the obvious thing for you to do is go and buy the book – you will not be disappointed.
Levity
Words matter

Your mindset is absolutely key

There is a distinction between the concepts of movement/exercise/sport. Same goes for Levity/Humour/Comedy: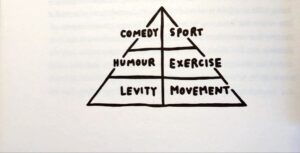 Your Humour Style
Find out which humour style you predominantly are

It's OK to flex your style – but be aware of the pitfalls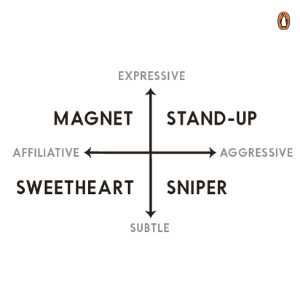 Which one are you? Take the test here.
Using humour to defuse situations
An example in a tense diplomatic standoff – Yevgeny Primakov & Madeleine Albright
Performed Westside Story duet

Adversaries ended up becoming firm friends
Google Joint CEO Googles "inspirational things to say to your staff" while still in a virtual meeting (by "mistake" and while still sharing his screen)
Signalling self-deprecation

Said a lot about him
When is humour OK? You need, operating in concert:
A truth – we laugh at what we recognise

When the pain – either physical or emotional – is 'OK' for people

When people are sufficiently distanced – time, geographical or psychological)
Jokes are not universal, laughter is!
And Creativity is helped by laughter
Try recalling the 3 funniest things in your day:
Programmes your brain to look for it

Brain cocktail – see above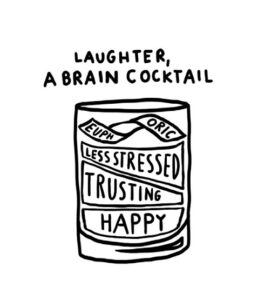 Humour
"like exercising + meditating + having sex" – all at the same time … and also HR approved!
gives a relaxed focus
Apple's Hiroki planned moments of humour months in advance
Helps tell the story
moves you through the emotions faster – speeds up the process from trust to respect
gives a sense of connection – for example, couples 30% more satisfied after laughter
How leaders signal using levity 
Another example – Richard Branson and the Elders who then included Nelson Mandela, Archbishop Desmond Tutu, President Jimmy Carter, Kofi Annan and Peter Gabriel aiming to solve the real problems of the world).
The scene: Necker Island 2004
The planned agenda was crammed with hugely well researched PowerPoint presentations
Branson ripped that up and insisted on 50% play time
Perversely this made space to be human
Desmond Tutu & Jimmy Carter

after a swimming lesson
toes in the sand
First cut of the Elders' founding principles
How to be playful and intimate on virtual calls (which we are all doing a lot of these days)
Show more of and about ourselves
Salesforce execs use signs made by their pre-school children
Nike compiled executives' TikTok videos
And finally …
Fancy playing Comedy Roulette
all attendees submit videos anonymously
show the videos
then identify which video made by whom
Do let me know if you are interested in receiving details of our future Meet the Authors events – these are the ones coming up:
Upcoming Events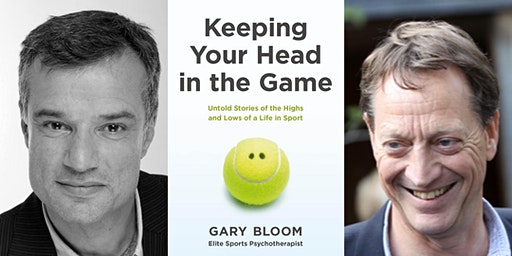 Meet Gary Bloom and Mark Nicholls' guests for KEEPING YOUR HEAD IN THE GAME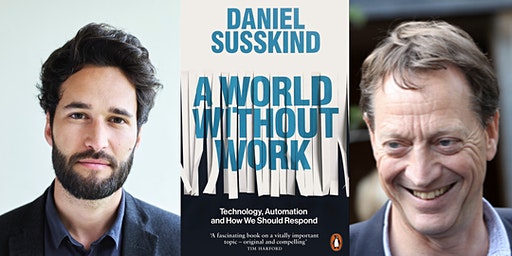 Meet Daniel Susskind with Mark Nicholls' guests for A WORLD WITHOUT WORK
Tue, Apr13, 2021, 10:00AM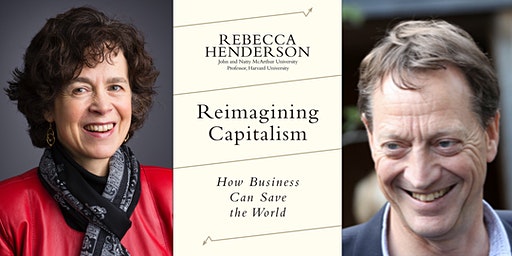 Meet Rebecca Henderson & Mark Nicholls' guests for REIMAGINING CAPITALISM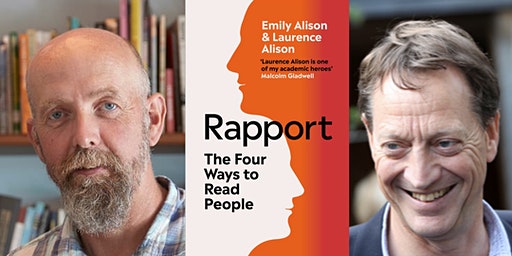 Meet Laurence Alison & Mark Nicholls' guests for RAPPORT