At Tectona Partnership, we believe in making you aware of things to help you and your business – and few are as critical and life changing as working with your own coach. This is no more relevant than in the turbulent times that we face today; as Brexit looms, the political landscape remains volatile and uncertainty prevails.
So here is a follow up article from Jan Bowen-Nielsen of Quiver Management:
Running a business should be an enjoyable and rewarding role, but do you find the burden of responsibility weighs heavily on your shoulders at times? When the going gets tough and it's just you at the top, who do you turn to for advice, for a sounding board, or to simply share the load?
An independent ear can provide the facility you need to talk things through, think laterally, and gain a new perspective on problems. Enter the business coach – there to provide the professional space you need to explore options, develop ideas and actions and proceed with confidence.
How do you know if and when a coach may be able to help you? Here are some suggestions to help you decide…
When to call a coach
Our clients come to us for a whole host of reasons, and when I ask them what their burning issues are, common themes crop up.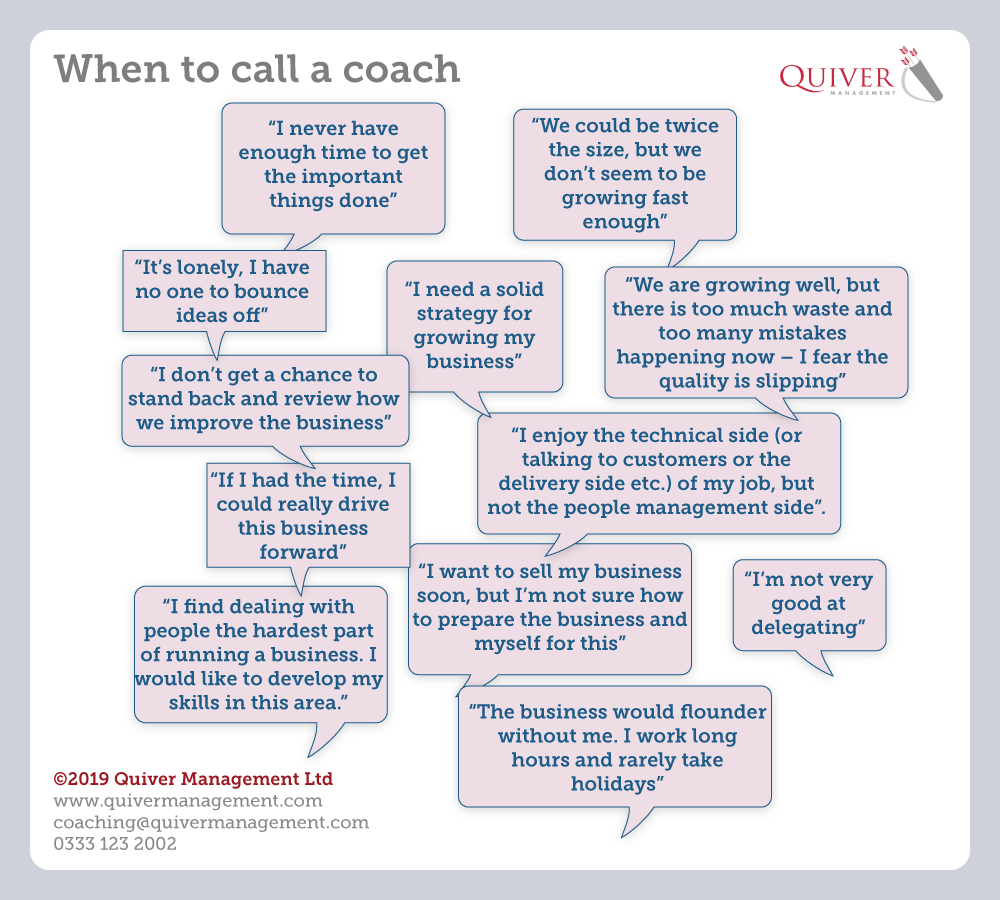 Perhaps you relate to some of them yourself? If you find yourself saying some or just one of the above, it's a sign that a business coach will be able to help you get to where you want to be.
More than a conversation
You may think that a business coach is just someone to talk to; and yes that's true. But there's so much more to coaching than that. Their purpose is to help you find the answers to your challenges and problems from within yourself. Deep down, you already know how to resolve most of your issues – you just need a little help in revealing the answers!
A coach helps you gain clarity
Contrary to popular belief, a coach does not offer advice or tell you what you should do. They will, however, provide the time and space for you to get to know yourself better, to structure your thinking, to gain new perspectives and ultimately gain clarity on your next steps. It's an opportunity for personal development and self-empowerment.
A typical coaching session will involve being challenged – about your beliefs, thoughts and actions. Through a series of pertinent questions from the experienced business coach, you'll have the opportunity to delve deeper into issues and explore options. It can be hard work, exhausting even, but that's because the process is working! Be prepared for some creative thinking, for reflection, and for developing a new plan of action.
If you're facing challenging times right now, your business is going through a growth stage, or perhaps you're planning your exit, take a look at the Quiver Management Business Coaching programme for more details on how coaching can help. And if you'd like a no obligation conversation with Jan, feel free to book an appointment for a chat.